A Strategic Integration of Sustainability
Mindful World transcends the boundaries of a product launch, serving as a symbol of Magnet's transformative shift in attitude and direction.
Every facet of this campaign – design, marketing, advertising, ethos – embodies this vision. Mindful World represents a ground-breaking revolution in large-scale integrated campaign productions. Our meticulous approach has revolutionised our workflows, supplier and contractor due diligence, and prioritises efficiency, waste reduction, and reusability. From eco-friendly kitchen construction to a carbon-efficient marketing approach, we embedded sustainable practices throughout.
About this post
July 6, 2023
Strategy
Creative
Production
Distribution
Take a peak at the launch video
The brief
In a campaign that transcended traditional New Product Development (NPD) or launches, our client Magnet approached us with a unique challenge—to create a statement piece that would reflect a shift in attitude and direction. This shift centred around a newfound focus on "care", influenced by the profound impact of the pandemic and increased climate awareness. The objective was to drive Magnet's future ambitions, shape their designs, and redefine their manufacturing visions.
The concept of "care" encompassed various dimensions, ranging from fostering consumer self-care, to embracing and respecting diverse cultures and customs. Above all, the core objective was to establish a genuine sense of care for our planet, transcending the notion of merely minimising harm to actively striving to do "more good".
This transformative campaign aimed to position Magnet as a brand committed to sustainable practices, social responsibility, and positive impact. It sought to inspire a shift in consumer behaviour towards mindful choices and encourage a collective movement towards a better future.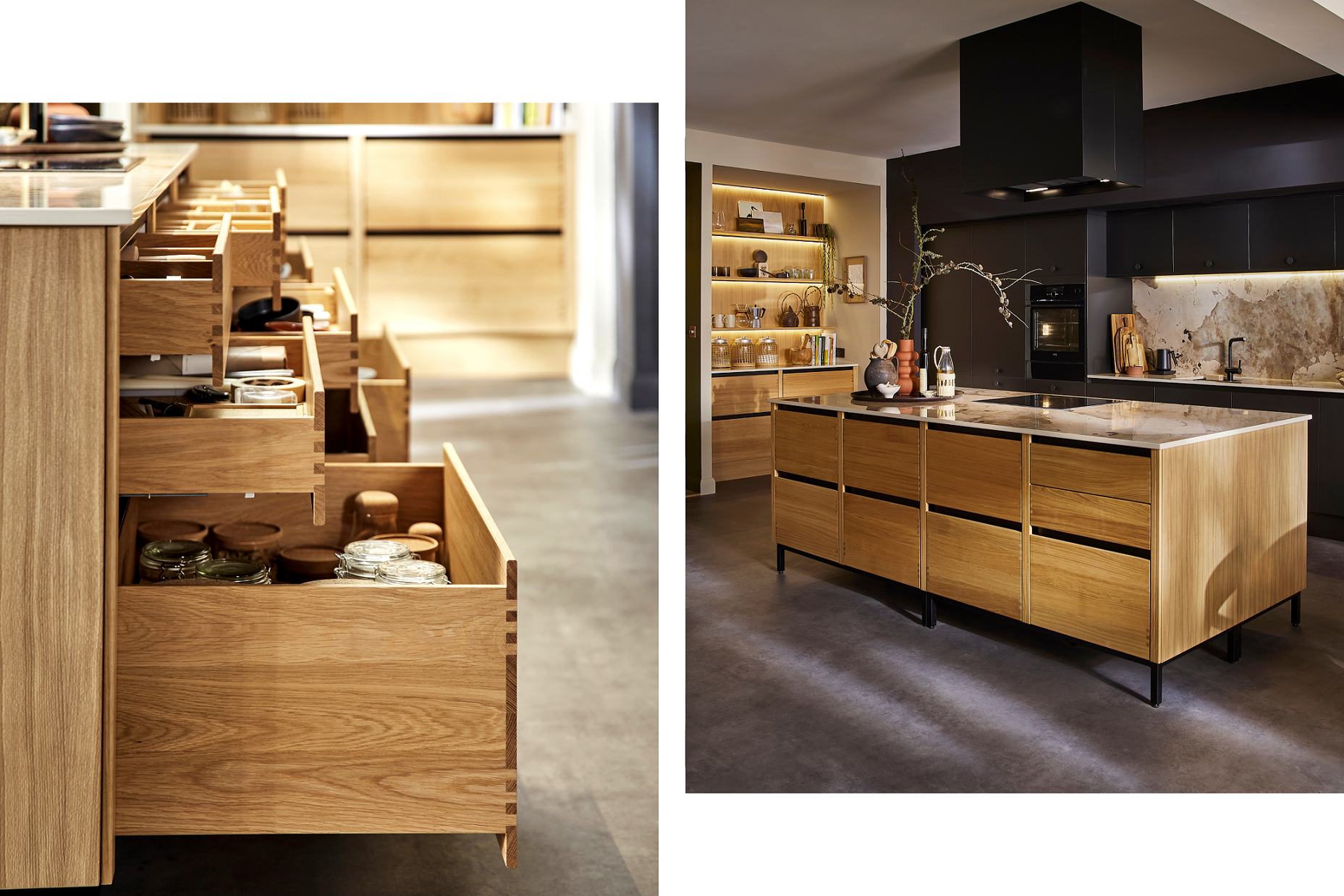 The challenges
Mindful World was crafted with sustainability at its core. It embraces the use of recycled materials and forms partnerships with appliance brands that support the message of mindful living, energy conservation, carbon emissions reduction, and combatting food waste. 
To bring this concept to life, we had to overcome several challenges.
Holding pre-production meetings with the client and agencies to understand their needs & shape both shot list and creative approach had its challenges – primarily centred around time constraints and logistical considerations. But the collaborative nature of the project demanded extensive coordination and communication between all stakeholders involved.
AdGreen's evaluation preceded the campaign, and due diligence ensured the alignment of suppliers, contractors, and partner brands with our client's sustainability goals. This involved effective communication, negotiation, and ongoing collaboration to align everyone's efforts; addressing potential conflicts, reconciling differing priorities, and ensuring ongoing compliance with sustainability standards.
Creating content in a single production window, that could be promoted through various channels, including Magnet's website, social media, print articles, POS and digital POS, email marketing, and re-art worked for sale promotions, required a thoughtful and strategic approach too. This called for a militant approach to evaluation of content value (#changethebrief) to support sub campaigns from other agencies, and a deep focus on maximising the time onset. This was especially challenging when dealing with logistics, as well as talent and client schedules.  
Additionally, we had to navigate the unique challenges of shooting in a sustainable kitchen, such as limited LED lighting and space constraints. Nevertheless, we overcame these obstacles and effectively captured the essence of the concept, successfully delivering the intended message to their customers.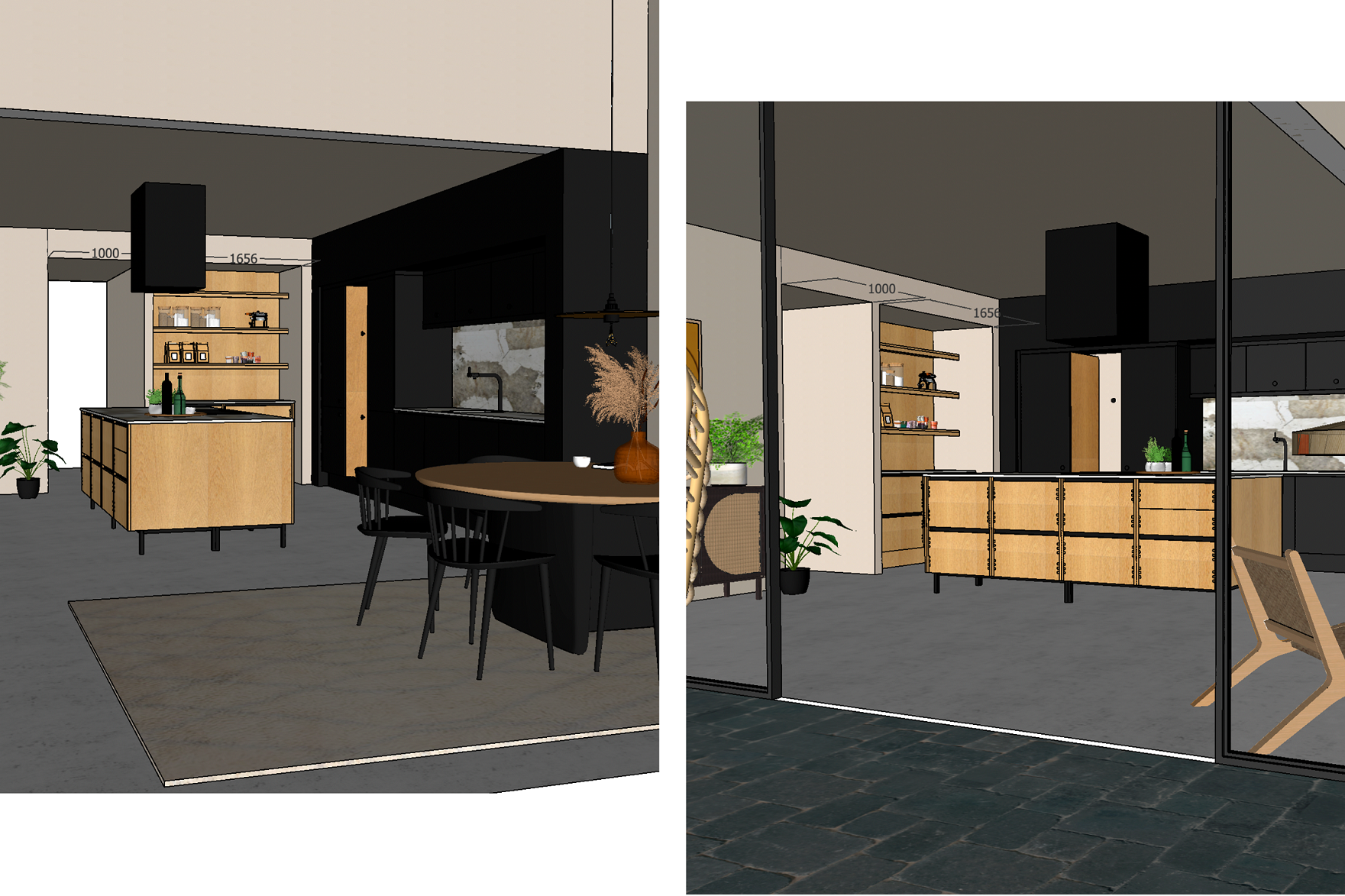 Our approach
It became the collective vision to propagate sustainability through every touchpoint of the design, marketing, and advertising of this campaign. The Mindful World kitchen concept infused its design and ethos with features that promote sustainable living. So, the campaign did too.
To achieve this, we applied our highest level of Production Strategy.
We started by reducing the number of productions or live action shoots.  Rather than creating content across multiple different agencies, partners, and stakeholders – we collectively fused the wants and needs of every department, team, agency, and specialist together, into a single production pipeline.  We then canvased interdepartmental teams at Magnet on crossover 360-marketing and campaign activity (across B2B, digital comms, appliance partners, and sustainability teams) and used these data points to craft a unified campaign directory of content demands, opportunities for additional content captures, and cross related messaging, all categorised by value of asset and it's expected ROAS.  
This encompassed campaign assets across various mediums, including TV commercials, social media content, paid advertisements, public relations initiatives, and print materials.
All aspects of the campaign were ran through AdGreen. This involved making changes to the pre-production process to restrict and minimise carbon emissions. Additionally, we handled the creative aspects of the campaign as a joint activity between Magnet and Powerhouse, employing the principles of #changethebrief to protect creativity while minimising our environmental impact.
Our entire pre-production preparation, including briefings, interdepartmental meetings, shotlists, schedules, moodboards, and storyboards, was handled digitally. We implemented an "AI first" approach to lookboards and moodboards, and we only used digital whiteboards & assets across the entire creative process.
We employed CGI previsualisation using CG models directly integrated into the Unreal Engine. This allowed us to present a realistic and accurate representation of the design to the client, facilitating collaboration and amendments among all stakeholders involved in the campaign's construction; and by doing so, minimising wastage, excess materials, and logistics associated with physical set-building and prop sourcing.

In line with our sustainability focus, all recipes and nutritional development for the campaign were purposefully vegetarian, emphasising the use of local, seasonal, and simple produce with mindful and longer-lasting components. And we only provided vegan catering to our crew and clients made from surplus food.
But that's not all. We also prioritised sustainability in wardrobe and makeup choices, sourcing from companies with notable sustainability credentials and donating any unreturnable clothing to local charities.
To ensure the use of sustainable building materials, we carefully sourced the most efficient options. We used water-based paint from Coat, and all brickwork, MDF, timber, and fixings were applied without permanent adhesives to enable future reuse. Biological components, such as plants, were sourced, hired, and delivered in the most sustainable way, with all plants being returned for sale after the production.
By grouping digital schedules and shotlists, we were able to shoot videos and stills concurrently, and used constant low-energy lighting, hybrid directors of photography (DoP), and long-lasting recipes to extend the life of assets during the shoot.
In terms of production techniques, we employed Virtual Production to have both a digital and physical sets running simultaneously, in two separate studios. This approach allowed us to shorten the shoot window by several days.
By the end, the campaign produced a huge digital collection of assets that were curated, meta tagged, and categorised to act across a multitude of interconnected content streams. These assets are being used throughout the line from TVC to TikTok, and everything in between.  
They are designed to span the lifecycle of the product, as well as serve supporting content for other Magnet teams, departments, and initiatives.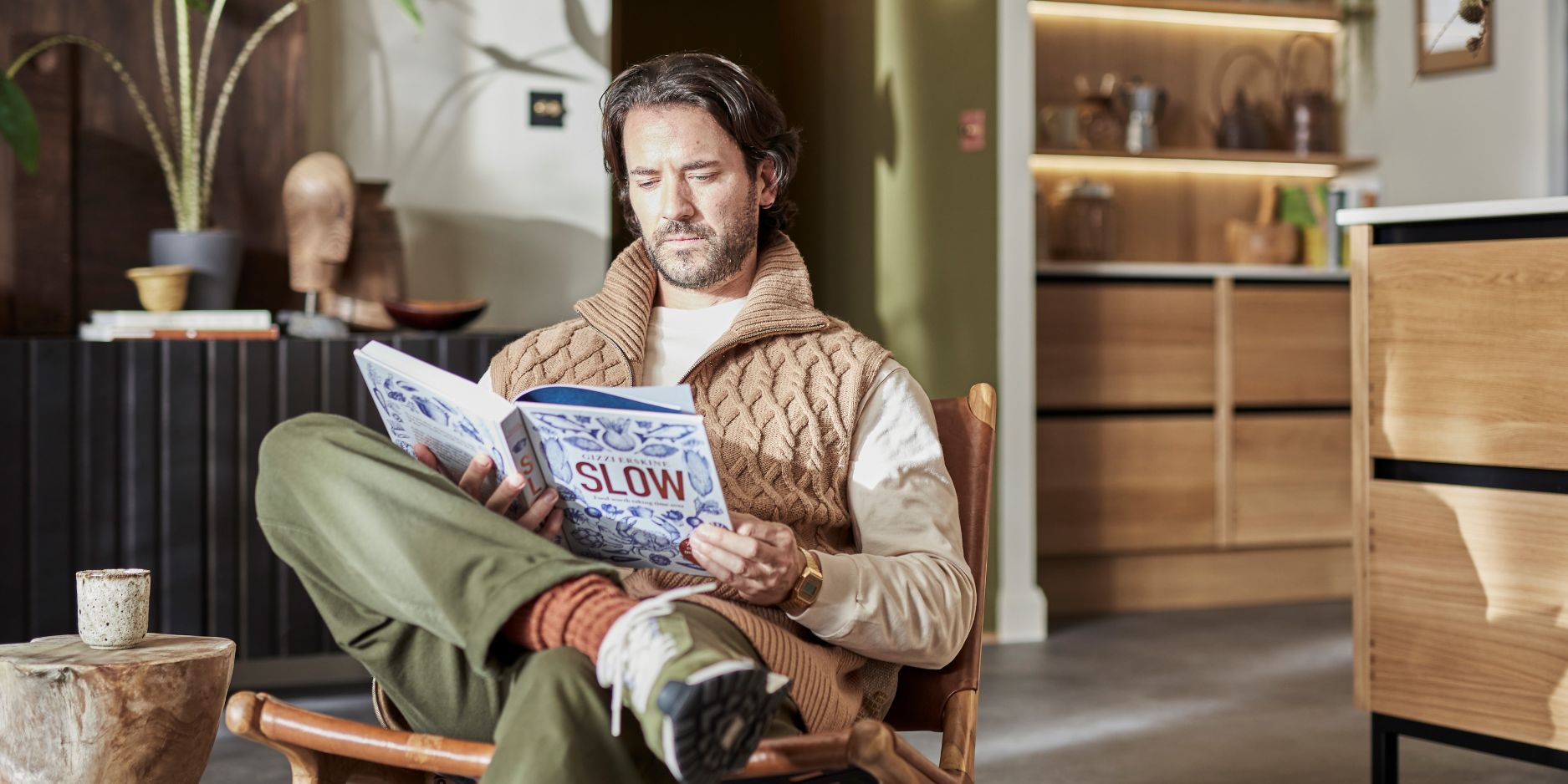 Results
Mindful World was awarded Ideal Home's "One Small Step" for sustainability 2023.
Judges' commentary: "We were blown away by how many elements of this kitchen had been designed with sustainability and energy saving in mind. From FSC-certified timber frames door fronts wrapped in 100% recycled PET foil to the long-life LED lighting, water-saving taps and the knobs made from 100% recycled sea plastics, every inch of the design has been cleverly crafted with responsibly sourced materials to create a beautifully elegant kitchen for the future."
Additionally, the Nordic Nature concept and the stunning content we created secured Magnet a placement in April's issue of Elle Decoration (circulation: 59,157), which further amplified the campaign's reach and visibility.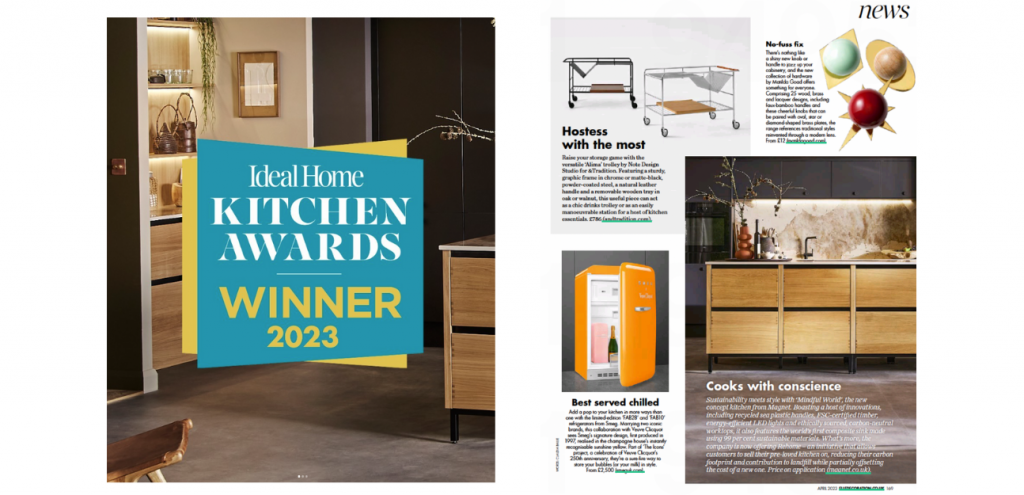 And more recently, the same campaign won at the UK Content Awards 2023 under the category "Retail Content Campaign of the Year".
Judges' commentary: "They developed a clear strategy with well-defined objectives, and the results they achieved were impressive. They surpassed their ambitious goals, which is a testament to the effectiveness of their approach and the dedication of their team".
In terms of advertising effectiveness, our client saw a significant increase, with 30% of users stating that they visited Magnet due to seeing an ad, compared to 17% in the previous year.
Across organic social, Magnet saw their top performing reel of all time and highest performing story for link clicks as they teased the launch of Mindful World.
43%
Growth in ad effectiveness
1
Retail Content Campaign Award
Who worked on this one
This project wouldn't have been possible without our awesome team!