The making of our Virtual Production webinar
In the dynamic world of technology and innovation, Virtual Production stands as a game-changer, revolutionizing the way we approach and create immersive experiences (XR and ICVFX).
Recently, we hosted a webinar that showcased the flexibility and speed of Virtual Production. With three scene changes —transporting our panel from a cosy coffee shop to a vibrant festival and then into the heart of a mystical forest, without the panel lifting a finger! Join us as we delve into the behind-the-scenes process and the incredible capabilities of this cutting-edge technique.
Virtual Production harnesses the potential of Unreal Engine, a powerful real-time rendering platform, to create lifelike virtual environments behind a physical environment production. Its essentially a hybrid (digital / physical) production! With a dedicated crew overseeing various aspects (UE, sound engineering, set dressing, and camera operations) we aimed to demonstrate the extraordinary possibilities of this tech, in a way NO other webinar has attempted before, in the shortest time possible.
But how short? Well, you're about to find out.
Remember, while a larger budgets open up exciting creative opportunities – innovation and originality is stress-tested on limited resources! What we're exploring here is how we refine pipeline, process, and possibilities. Nothing is impossible – it's just a matter of how we approach the challenge!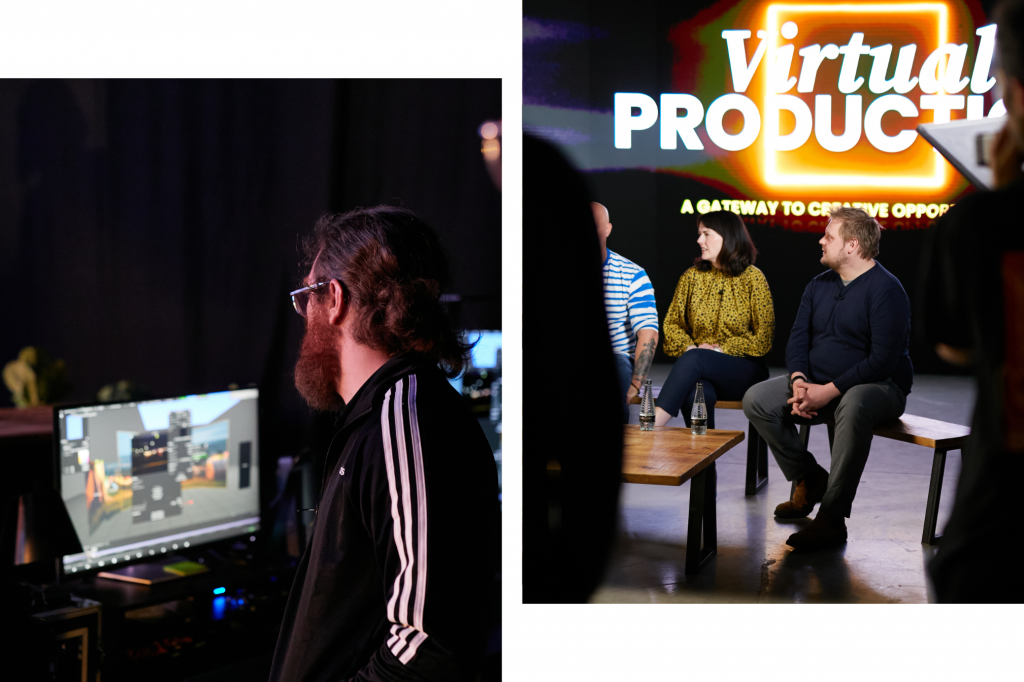 How we did it
We embarked on a collaborative process to build a narrative that would push the boundaries, and bring our fresh, unprecedented vision to life.
Our team meticulously crafted a storyboard that captured the essence of a webinar, but not your usual webinar – that would be a bit boring. We wanted to break away from conventional webinars, aiming for something that had never been done before.
"What if we could replicate the enchantment of a theatrical performance?
Where the narrative continues in the centre of the stage,
while the world changes around?"
Each frame of the storyboard was carefully designed to contrast colour, style, and emotion, tell a compelling story, and showcase the limitless possibilities of Virtual Production – while illustrating the practical opportunities of this technology.
So, here's how we got it done: We created moodboards in collaboration with our VAD team; our creative art department and Rebel Digital (our CGI partners). The visual collection served as; directional lighting cues, sample colour palettes, and aesthetic elements of BOTH the virtual and physical spaces together. It allowed us to establish a cohesive visual language that would seamlessly tie together the different scenes and immerse our Panel into the captivating virtual world.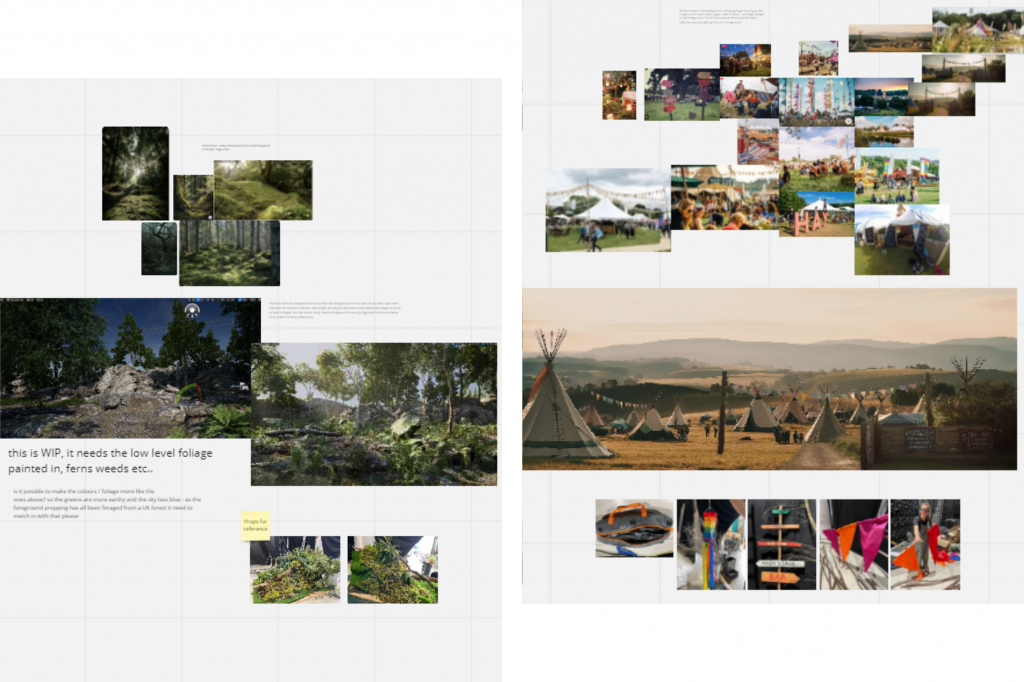 The visual references served as initial guides of what we were trying to achieve. It was important that the physical and virtual represented the same components.
"It's amazing how many types of fern there are in typical UK woods and forests. We wanted to make sure we were building (and animating) the same types of foliage in both environments. We used physical textures and materials to map onto the virtual woodland, and we used the same lighting tools in physical and virtual world to help us in matching things up." – Luke Whiteley 
We used Gen AI tools to mass source inspiration for the VAD team to work with, and even used a series of AI tools to create one of the backgrounds (Festival). We created a living 2.5D scene (Disguise platform), using MidJourney, AI upscaling, AI segmentations tools, and AI atmospherics tools to generate beautifully dynamic scenes without relying on full 3D modelling. This approach allowed us to have the same level of real time flexibility from our backgrounds without having to paint, render, or bake anything down beforehand.

With our vision firmly established, we began the process of sourcing props, foraging, and set pieces that would bring an extra layer of authenticity to the virtual environment. The collaboration between our VAD ensured all components were dynamically adjustable live allowing us to have the greatest flexibility to frame and handle composition onset. This meticulous attention to detail brought a tangible sense of realism, blurring the lines between the physical and digital worlds.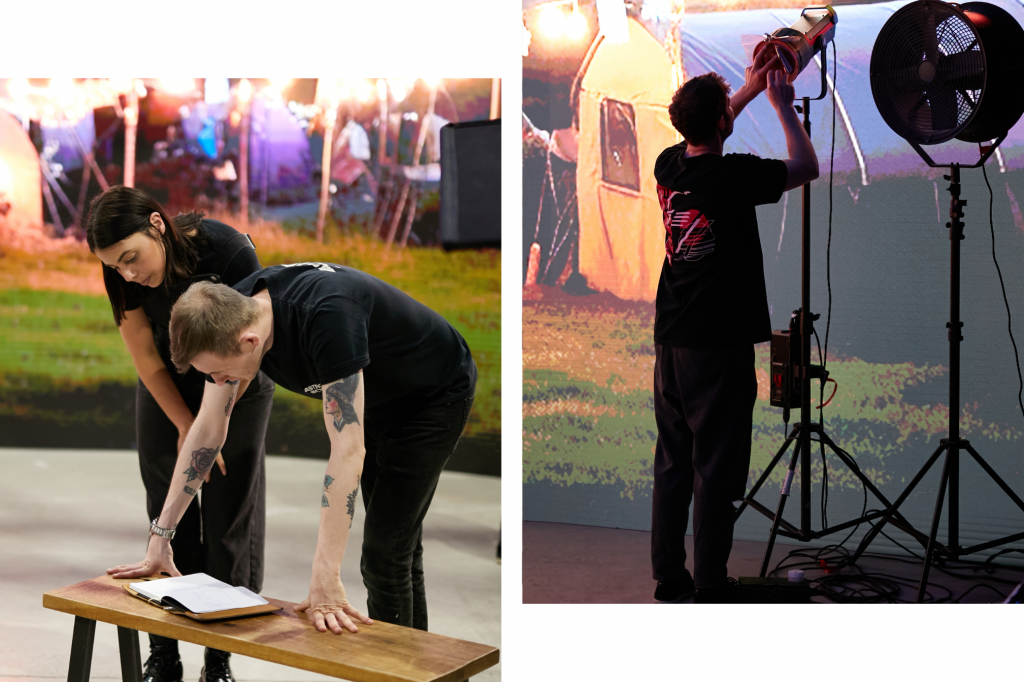 With a full crew looking after every aspect (from UE, sound, technical operations, set dressing, choreography, and camera), we were aiming to reduce the time to dress each set to the lowest we could possibly get! Those eagle-eyed amongst you might see a few white markers on the studio floor? These are indications of where everything needed to go, and in what order! It was a choreographed dance featuring as many hands as we could muster! We managed to get each changeover down to about 20 minutes – practice (and process) makes perfect!
We used portable stages, to construct 'blocking scenes' and rolled them in. We attached items to rigging and extendable grip to float buntings and lights that could easily be dropped into the scene with a single move. We used DMX control panels to pre-set all lighting cues on a number of different LED volume and Aperture lights in physical and virtual space to create the atmosphere. We even used smoke machines, and digital fires to create a volumetric atmosphere.
And all of these (crew, cast, lighting, equipment, virtual volumes, effects, and physical props) were triggered and controlled by a single brave voice (the director).
"The complexity of maintaining synchronization between the speakers, adjusting lighting dynamically, and ensuring the backgrounds were aligned with the physical props presented exciting challenges. But so much fun! It was a truly unique and exciting experience!" – Dave Galloway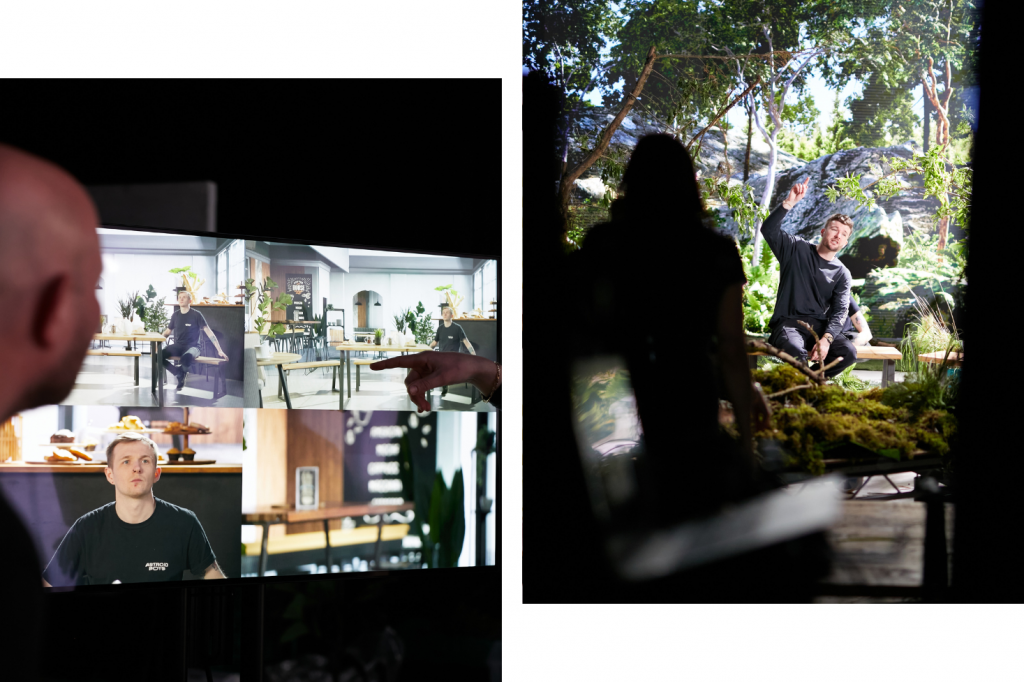 Ultimately, the success of our changeovers and the overall webinar experience hinged upon the collaboration between all teams. This approach extends beyond the technical aspects, and is essentially how we make Virtual Production work for the commercial industry.
"This project is part of the essence behind our "Xplor, Powerhouse, and Rebel" partnership.
Virtual Production for advertising only works when all parties are aligned, connected, collaborating, and focused on each of our unique specialisms – directed towards a singular workflow. This approach to 'flexible scale of Virtual Production' is the key to our commercial proposition with this technology. I am immensely proud of what the team continue to achieve." – James Pierechod
As we continue to expand the frontiers of creativity and technology, we invite you to join us on this transformative journey. Embrace the power of Virtual Production and unlock this gateway of creative opportunities.
Stay tuned for more innovations from our teams, and sign up to stay ahead of the curve!