Unwrapping the success of the Barbie Movie
Barbie Movie is set to be the biggest release of the year. But you know what's even bigger? Their Marketing Strategy.
Unless you've been living under a rock over the past month, you'll have likely encountered a slice of Barbie's mega movie marketing campaign!
But how did pink, and a character that seemingly opposes feminist ideals all of a sudden become so popular? Join us as we delve into the factors driving this hype.
The buzz surrounding Barbie, the movie, has taken the world by storm. From the initial brand reactions to the TikTok frenzy over promos, the famous Airbnb Malibu DreamHouse and a pop up beach café, this summer has become the official Barbie season, giving rise to the phenomenon known as Barbiecore – a visual trend that we at Powerhouse predicted to boom this year. And rightly so!
So… Let's delve into what we believe are the factors driving this massive hype!
1. Playing on Nostalgia
The film taps into the prevailing trend of seeking nostalgic experiences that have captivated online communities for quite some time. The younger generation, in particular, has been drawn to the aesthetics of the 90s and early 2000s, embracing Y2K fashion, overexposed flash photography, and hip hop. The world of Barbie allows people to immerse themselves in a nostalgic world that provides solace from the realities of everyday life.
2. The Power of TikTok
As with any other trend, TikTokers have swiftly identified the opportunity and embraced the concept of manifesting the ultimate pink-themed outfit they plan on wearing in theatres, further boosting the campaign's reach. The hashtag #barbiemovieoutfits has reached 6M views on TikTok, and features various Barbie personas like "country Barbie," "roller skating Barbie," or "cottage Barbie.".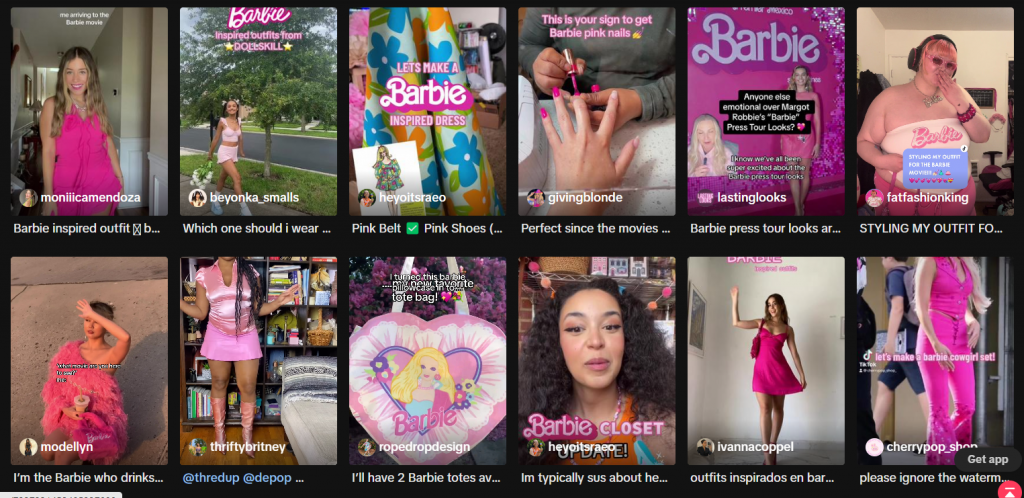 2. More than "Just a Colour"
Barbie's distinct visual identity, characterised by its iconic shade of pink, has played a significant role in generating buzz. Few brands can slap a colour and a date on a billboard and be immediately recognisable! This is a great nod to not only Barbie's heritage, but also a reminder of their familiarity.
Other brands, like Fenty Beauty, have subtly incorporated visual cues from the Barbie world without explicitly mentioning the brand, tapping into the shift toward maximalist self-expression on social media.
3. Collaborations
The marketing strategy has also involved numerous partnerships, experiential marketing activations, and social media campaigns, with over 100 brand collaborations, to bring audiences into the world of Barbie. A great example is the collaboration with Xbox, offering a pink console and controller that can be incorporated into one's personal "Dreamhouse". These partnerships span across various industries including fashion, beauty, tech, travel, food and beverages, home decor, and more – creating a multifaceted engagement with the brand (this round up From Moshe Isaacian is brilliant and definitely worth a look).
By transforming Barbie from a mere doll into a lifestyle brand that people can actively engage with, the campaign resonates with audiences on a relatable level, capitalising on the power of immersive experiences to enhance brand salience.
4. Taking a Back Seat
Interestingly, Barbie's marketing team has taken a backseat, allowing others to take the lead. As seen in a recent Drum article, where Mattel's president and chief operating officer, Richard Dickson, said the brand hasn't actually done much marketing. Instead of relying heavily on traditional approaches, the brand has curated tailored content that has the potential to go viral. Take Barbican tube station as an example, which was renamed Barbiecan, or a pink Doctor Who Tardis also appeared at Tower Bridge.
By leveraging the trust and influence of partners, communities, and creators, the campaign has gained traction and authenticity, worldwide. An approach that has proven to be more impactful than direct messaging from the brand itself!
Overall, the buzz surrounding the Barbie movie is a result of meticulous and calculated efforts. It signifies a departure from the problematic connotations of the past and represents a new era for the Barbie brand, appealing to audiences of all ages. With its empowering tagline, "You can do anything," Barbie reminds us that we're never too old to embrace the magic of imagination and play.
So, what can we all learn from this mahoosive campaign?
Disrupt the playing field: Would a classic billboard and digital ads strategy have worked for this movie? Probably. But the team didn't just want it to work, their goal was "for Barbie to be everywhere". To shake up the playing field. To do something different. And they did.
Collaborative success: This campaign exemplifies the power of collective effort, demonstrating that when every brand brings their best to the table, everyone wins.
Emphasise familiarity: While the team could have rebranded Barbie with a fresh perspective, they chose to stay true to her iconic image that instantly resonates with audiences.
Realistic Expectations: Achieving a ubiquitous presence comes at a cost. The ability to be everywhere, all at once, requires substantial resources and investment.
Now the question is…
Who's off to the cinema this Friday?