F&B content and sustainability can go hand in hand
In this article, we're dipping into the innovative landscape of sustainable recipe development and food management.  
Our mission is clear: to inspire and guide brands and agencies towards adopting eco-conscious practices in their campaigns, processes, and overall strategies. 
There are many reasons why you should consider sustainability when shooting with food:
First and foremost, it aligns with the growing pressure and awareness among individuals, businesses, and governments to adopt more environmentally friendly and sustainable practices.

Sustainable food management can lead to cost savings by minimising food waste and optimising resource usage

 

Fostering sustainability in your content campaigns not only safeguards the planet but also promotes healthier eating choices

 
Sustainable Recipe Development
Hear it from our Lead Food Creative, Georgie Hodgson:
Let's take a look at some of our initiatives here at Powerhouse. 
In our recipe development, we tend to champion the use of locally grown, seasonal accompaniments over ingredients flown in from overseas. Whether it's incorporating British asparagus in Spring, abundant courgettes in Summer, or substituting in quash or brassicas as we head into the colder months; these choices reduce air miles and inspire consumers to do the same. 
We might also make plant-based suggestions, in line with #changethebrief, encouraging consumers to reduce their meat consumption and ergo their footprints. As well as being good for the planet, plant-based recipes are also good for our health, so it's a win-win really. 
Ethics play a crucial role in our ingredient choices too, so we make time to do our research. We all remember the quinoa phase, but these fast-moving food trends or 'fads' can be problematic, because the sudden high demand for a product means that the increase in production compromises ethics in how it's produced. Using long shelf-life ingredients, rather than fresh, can be a good way to make a recipe more affordable and reduce waste. 
Minimising waste during cooking is another aspect of our approach. We create recipes that either use ingredients in their entirety or alternatively, provide tips on how to use the rest of an ingredient. If you're using half a loaf of bread, we put in ideas of what to do with the other half (make breadcrumbs and freeze or use in a panzanella salad). 
At the heart of our approach lies a commitment to not only create visually stunning and delectable dishes but also to optimise the end result. We focus on crafting recipes that align with current consumer interests, ensuring that our efforts are in harmony with what people are actively searching for. By doing so, we not only enhance our food SEO strategies but also reduce the likelihood of generating excessive, underutilised content. This conscious approach minimises food wastage, both in the digital and culinary realms, as we prioritise recipes that resonate and… rank well.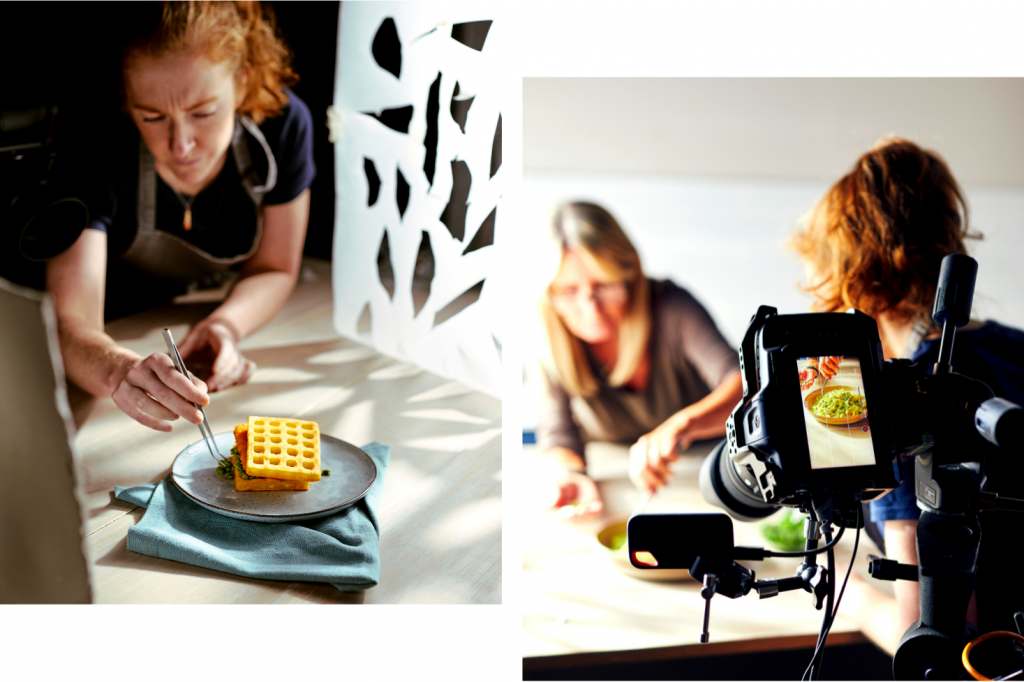 Food Management
Hear it from our Food Creative, James Sargent:
Moving on from the pre-production stages, there are also ways that you can make the actual shoot more sustainable, and in doing so, also more efficient. 
Having an effective Food Management System in place ensures that raw materials (whether it is samples provided by suppliers or ingredients that need to be shopped for) are handled and stored correctly. Whilst the primary concern is making sure you've got the best produce to represent your brand (we get it!), keeping said materials in tip top condition also means that they can have a life beyond the shoot and not just end up as waste. 
Here at Powerhouse, we have multiple fridges and freezers in each studio so that produce isn't left to spoil, as well as stores for ambient products. Treating everything respectfully means there are fewer damaged or spoiled items, which ultimately means less wastage.  
As a brand, you can help us by being savvy with your samples: make sure they arrive with us in good time for a shoot so that we can check them over and ensure they're in optimal condition (but not so early that they aren't at their best for the big day – we're good food stylists, but green turkeys are beyond saving!). Our team is always willing to collaborate on how to approach this, so feel free to  reach out.
For shoots involving food using a food stylist will also cut down on waste. Having a seasoned professional on set who knows how to handle the products and get the best out of them, will keep things efficient. Ingredients on set can degrade under the studio lights, so if not done right, this can lead to multiple attempts meaning more food wastage… more time used… and more money spent!  
A responsible food stylist will also keep cold food stored properly and avoid cross contamination, meaning that leftover ingredients and meals can also be used to feed the crew or donated to charity – anything is better than it being thrown away.  
If food does need to be thrown away, make sure it is in a responsible way – using food waste bins to avoid landfill is much better for the environment. Or even better, turn it into compost like we do here at Powerhouse, which in turn is used to grow our own produce the following year! 
Bottom line is…
Food styling and sustainability can go hand in hand – when done properly!