TikTok Guide: Your ultimate resource for this Festive Season
The scent of cinnamon, the twinkling lights, the warm cups of cocoa… yes, it might seem a tad early, but the holiday season is just around the corner (scary)! And who's diving headfirst into the festive spirit? None other than the powerhouse of short-form content that is TikTok!
This week, TikTok unveiled its highly anticipated 2023 Holiday Guide, aiming to make your upcoming holiday season more joyful and successful than ever before.
With an astonishing 1 billion active users and a 61% of those users making purchasing decisions influenced by or directly through TikTok, the platform is confident in its assertion that it will be the ultimate go-to resource for all things holiday-related. Whether you're seeking the perfect gift ideas, searching for DIY holiday decoration inspiration, or simply wanting to bask in the holiday atmosphere, TikTok is poised to deliver.

Exploring the Guide's Offerings
The 2023 Holiday Guide kicks off with a comprehensive introduction to TikTok for those new to the platform. This ensures that everyone is on the same page before delving into the heart of the guide: recommended planning timelines and creative tips for a successful holiday content creation journey.
They've even created a suggested month-by-month plan so that your business can reach shoppers all season long. See sample below.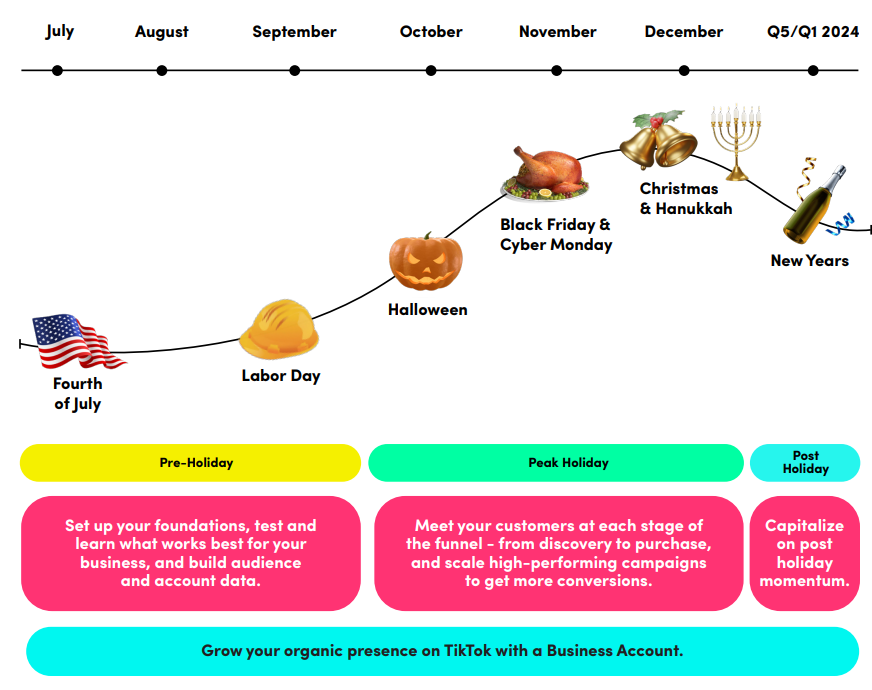 Key takeaways on their "Creative Best Practices"
Short and Sweet: TikTok's guide emphasizes the importance of creating videos that are over the 10-second mark, as well as always including audio (and subtitles for users who have sound off). This ensures that your content maximises the platform's engagement potential.
The Three-Pillar Strategy: To truly excel, TikTok suggests incorporating three crucial elements in each video – a clear hook, a unique selling proposition (USP), and a compelling call to action (CTA). This three-pronged approach guarantees an engaged audience eager to interact with your content.
Mastering Attention: Recognising that the initial six seconds of a video are make-or-break, TikTok underlines the significance of leveraging editing techniques and land your key selling point early, or risk losing out on users'. These techniques are vital for leaving a lasting impact and ensuring proper content attribution.
Beyond Organic Content: Unveiling the Power of Paid Ads
Last but not least, the 2023 Holiday Guide extends its insights beyond organic content creation. It provides valuable guidance on paid ads. Having a substantial collection of assets enhances the optimisation of asset selection, and they advise distributing your creative assets across various Ad Groups, all the while ensuring there are 3-5 ads per ad group!
Hungry for more? 
To further substantiate holiday content planning strategies, influencer marketing platform Collective Voice launched some compelling insights earlier this month. The survey, which can be accessed separately here, provides additional context and depth to the holiday planning landscape:
Early Initiators Reap Rewards: About 56% of people began their holiday shopping as early as October last year. Creators seem to align with this trend, with 27% commencing their holiday content planning within the first six months of the year, and 21% launching their plans in August.
The Importance of Timing: For those concerned about lagging behind, there's no need to fret. Roughly 30% of creators embark on their planning journey in September, and nearly 20% kickstart their efforts in October, leaving ample room for collaboration opportunities.
Holiday Revenue Windfall: The holiday season's significance extends beyond brand profits; creators also thrive during this time. A substantial 57% of creators reportedly generate a quarter of their yearly revenue during the holidays, with 28% amassing half of their annual earnings at this time.
Authentic Connections Matter: Authenticity takes center stage during the holidays. Approximately 85% of creators prioritize nurturing existing brand relationships, focusing on deeper connections rather than juggling multiple new offers.
Shifting Revenue Streams: While Instagram maintains its supremacy, generating 57% of the highest sponsored campaign revenue during the holidays, Facebook trails at 18%. Interestingly, there's a resurgence of interest in blogging, with 11% of creators attributing the most campaign revenue to this medium.
As the holiday season looms, marketers are certainly gearing up for a strategic and fruitful period. TikTok's 2023 Holiday Guide stands as an invaluable resource, guiding content creators, marketers, and brands toward a successful holiday season.
Whether you're crafting a content strategy or seeking holiday inspiration, we can help you create holistic solutions tailored to your marketing objectives!