The CMO Blueprint for content growth in 2023
What's the Content Marketing Blueprint for this sort of year? 
Well, it's full of touchpoints, it's omni-channel, featuring a holistic, iterative content strategy – all underpinned and evaluated by affective / attributable measurement.  
What it's NOT: it's not a list of campaigns, NPD's, projects, or a desire for 'platform specific' content in isolation. It's not just seasonality on a content calendar, or something driven by a technological trend (I'm looking at you, Metaverse). 
We're continually working with brands on defining (and developing) interconnected content planning, and production strategies (all with a centralised view on sustainability) – so we've seen our fair share of what is and isn't working. We've also seen how this has the greatest impact on consumer engagement all the way through 'purchase behaviours', and how interconnected your brand needs to be, across every revenue stream, department, and media plan, and *spoiler alert* it never starts with "Can I book the studios for next week" 😊
How will this compound approach year on year, but specifically what trends will shape 2023?
What are the safe areas to lean on, where should you be expecting budget cuts? And where do we expect to see 'quick wins' too?
CAVEAT: When I write these "insights and opportunities type" articles – my mind's always awash with hundreds of possibilities, desires, and ideas for where and what consumer intent will be over the next few years. But my LinkedIn feed is covered in the same thing. Chat GPT and Generative AI!

If I am to be completely honest, at Powerhouse we're LOVING generative AI; we have been chatting, creating, testing, and commercialising the visual opportunities since late 2020 – but I have never seen this level of exponential development in our industry. Ever. In over 20 years. We have rewritten, ripped up, and redefined how we see AI infusing into our creative and production processes, time and time again.  

It's fun, frustrating but clearly a part of our future.  
Right on with the trends…
1. Generative AI
(Visual and audio content)
Like the rest of the marketing, creative, and technology sector, we've been experimenting with AI tools for the purposes of automation and content development. There's a huge opportunity for CMO's and marketers to really harness 'process and discovery' automation across their content and digital landscape.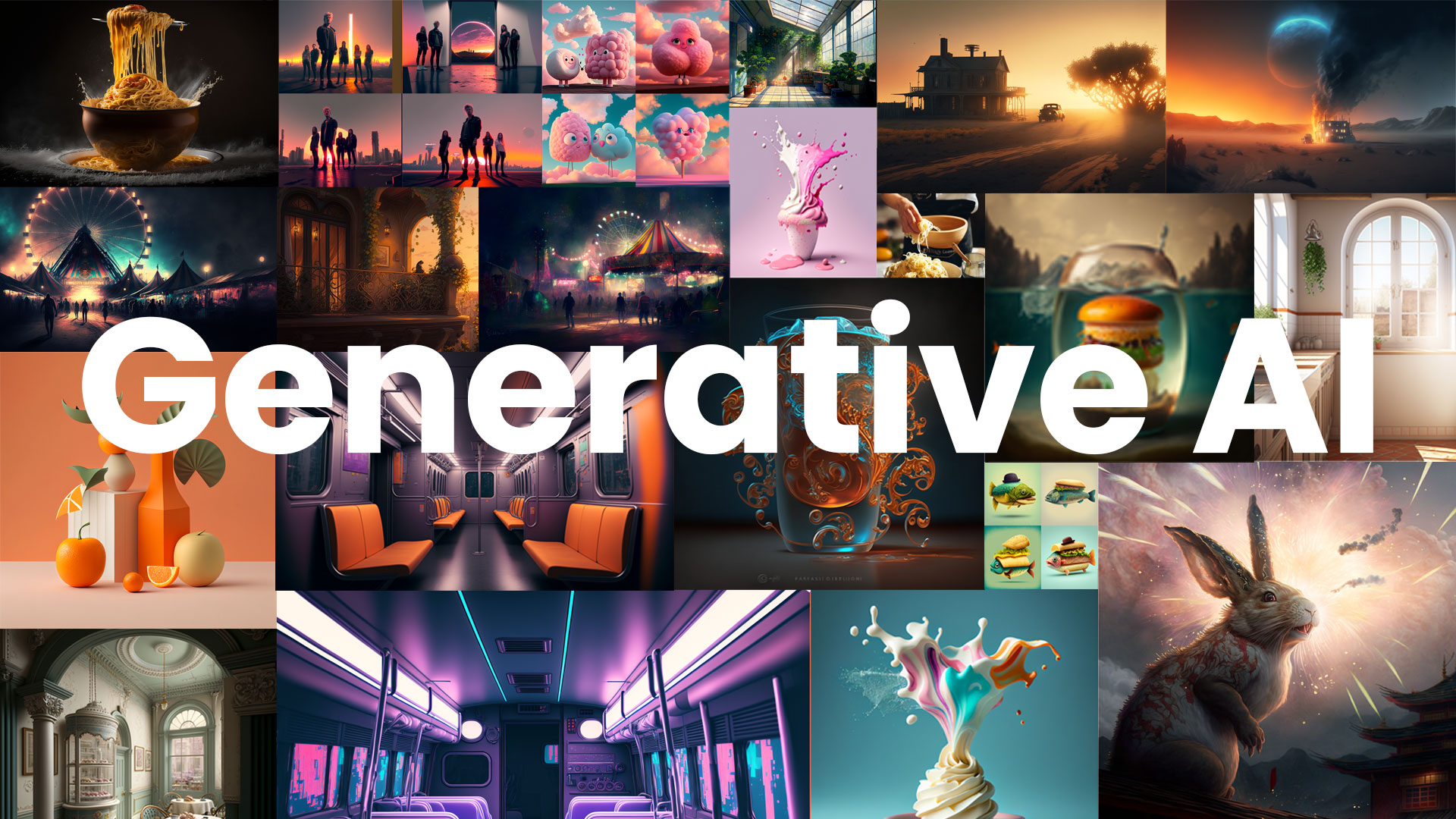 If we look at a 3-5 year trend vision, it's easy to imagine a future where 'Generative AI' is deeply embedded in every content strategy pipeline. But, the exponential and kinetic growth of these consumer tools requires us (as marketers) to apply more agile implementation models. We can't wait for this tool to become 'ready for market' – we are creating (and developing) that market together. 
For now, let's set aside SEO, written AI, ChatGPT, and authenticity of many AI tools and focus on: Generative AI for visual content. 
We have written about this a few times last year, on how we are using these tools. As the engines grow, "learn" and develop their capabilities, we're looking what the production landscape will be in 12 months?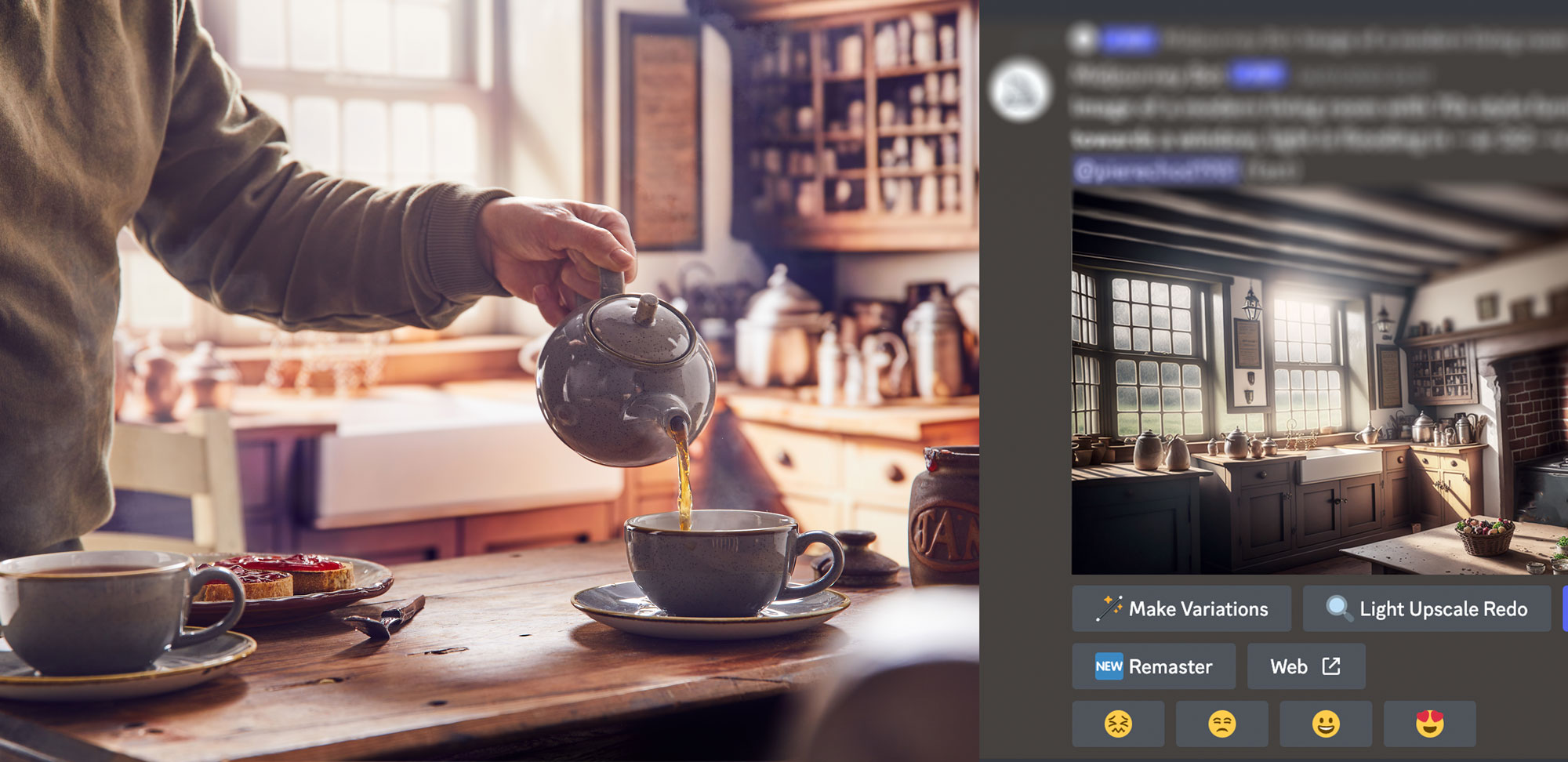 AI will feature in components of individual paid asset generation, as product-led micro-moments. We've already been able to integrate "prompted" media together with physical shoots, to better illustrate context and lifestyle through green screen and virtual production. But what if we're looking further… 
Construction, creative, and iterative asset generation will deliver significant impact in our commercial workflow. That's anything from generating; 3D assets (starting topology), illustrative components, textures, VFX, rotoscoping, clipping, moodboards, look-boards, and even recipe plating suggestions! 
This new world of generative AI content is not replacing the creative process its just augmenting it. It's just part of; how we can deliver true scale, personalisation, variation testing, and localising messaging. The trick with implementing any new process (plugin / code / software) integration is harnessing the abilities of the API (and anticipating the inevitable variations) – and protecting the curative and QM processes.  
2. Digital video expectations
Video marketing keeps growing in popularity! So, what's new?
Well, year on year we see 'vertical video' (essentially short form content) dominating engagement, industry, and VTR metrics. It's not hard to see why, but how do we expect to see this medium develop, and how can CMO's capitalise on such a fickle (viral) landscape? 
I expect to see 'short-form content' delivered with more long-term visions. 
TikTok, Reels, and Shorts are amazing 'awareness feeders' to a wider narrative messaging.  But we're seeing Google lean on TikTok (and the other short-form video content providers) as a search function  – therefore, marketers need to expand their expectation of simple 'short form video' content in 2023.  
These content streams are 'awareness' – but they're also 'functional and informational' convertors' too. We're using 'short-form' to feed viewers through multiple platforms over multiple visits and eventually into conversion intent.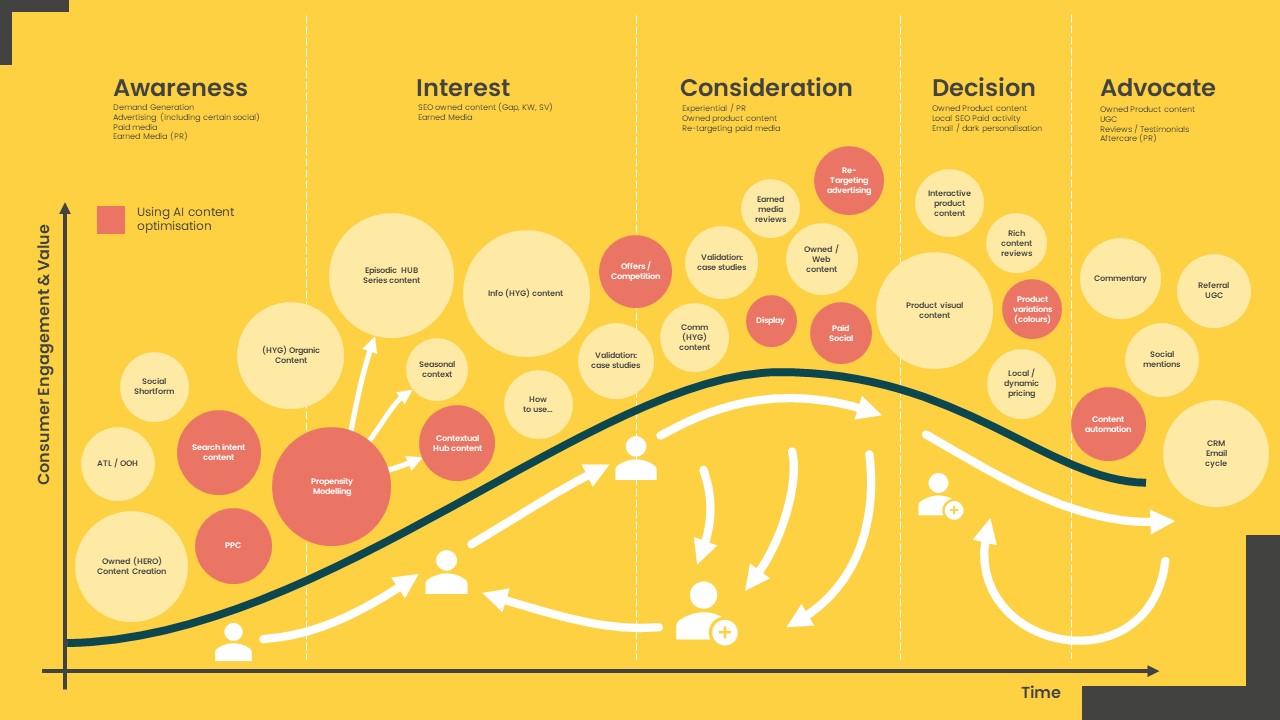 Therefore, this content can be more interactive too, that might include episodic into shortform, or 360 (viewing) or digital decision gates (polls, narrative links, shoppable, etc).  
So, it's not that "video" is going to be big, it already is. It's how we use these platform features and plan better, to deliver effective video that converts.  
3. AR for the populous
(Augmented Reality)
We've seen more acceptance of AR and mixed media advertising in Digital Out of Home (DOOH) throughout 2022, and we have seen some great attempts from brands (DIOR & Burberry) to make AR a 'shoppable' through Google Lens.
When we ask whether 2023 will be the year of AR, it all hinges on accessibility to the masses.  
Because…When AR is finally available through native camera and glass experiences – we will see an explosion of experience, opportunity, and EVERYONE will be on the content wagon FAST.  
But the barrier to entry on content creation is almost completely solved. We're here, waiting for you! 
Apple will be launching their AR consumer tech (through XRCore) in June 2023, and Google will be integrating their Google Lens (ARCore API) – into a native camera experience this year too. This is exactly what we have been waiting for. Brands will finally be able to free up content creators to utilise the opportunity without using 3rd party apps or overly prohibitive UX journeys.
4. Measuring every single asset
Attribution will be King (sorry 😊). Content is still the driver of this experience, but it's what every "clip, file, and word" means. Conversion for conversion. 
We're expecting our clients to be glued to Google Analytics, dashboards, and the media search consoles. And expecting briefs and valuation of content creation to be far more aligned to revenue expectation metrics – content driven by 'signal based marketing'. And feeding aggregated data into a more effective cross platform MMM (Marketing mix modelling) approach, allows CMO's, content creators, and everyone in-between – to align advertising and marketing data activity against impact, brand equity, and organic growth.
Organic content (SEO) will be more important in growing communities and developing 'first party data' from our brands' content marketing. With the end of '3rd party data' support firmly in position for the end of 2024 – it gives brands and their production partners 2 years to build their communities quickly.
5. Diverse content
…and community opportunities
Where there's a lot of potential fluctuation in the consumer confidence, we're expecting brands to embrace alternative revenue opportunities. If your community is not strictly 'direct to consumer' (DTC), we're expecting brands to develop and grow brand salience, product messaging and informational content directly for a B2B audience.  
Content partnerships between retailers, warehouses, and trade / industry facilitators will be key to a more rounded a Brand's Share of voice in 2023. Where available encourage departments to cross pollinate media plans and content expectations – and use this as an opportunity to diversify the audiences without repeating production.  
6. Expect to deliver 'authenticity'
Brands and marketers have spent the last few months navigating economic uncertainty, supply fluctuations and a looming recession. Consumer attention will be far more mindful, potentially frugal and wary of non-contextual purchase experiences.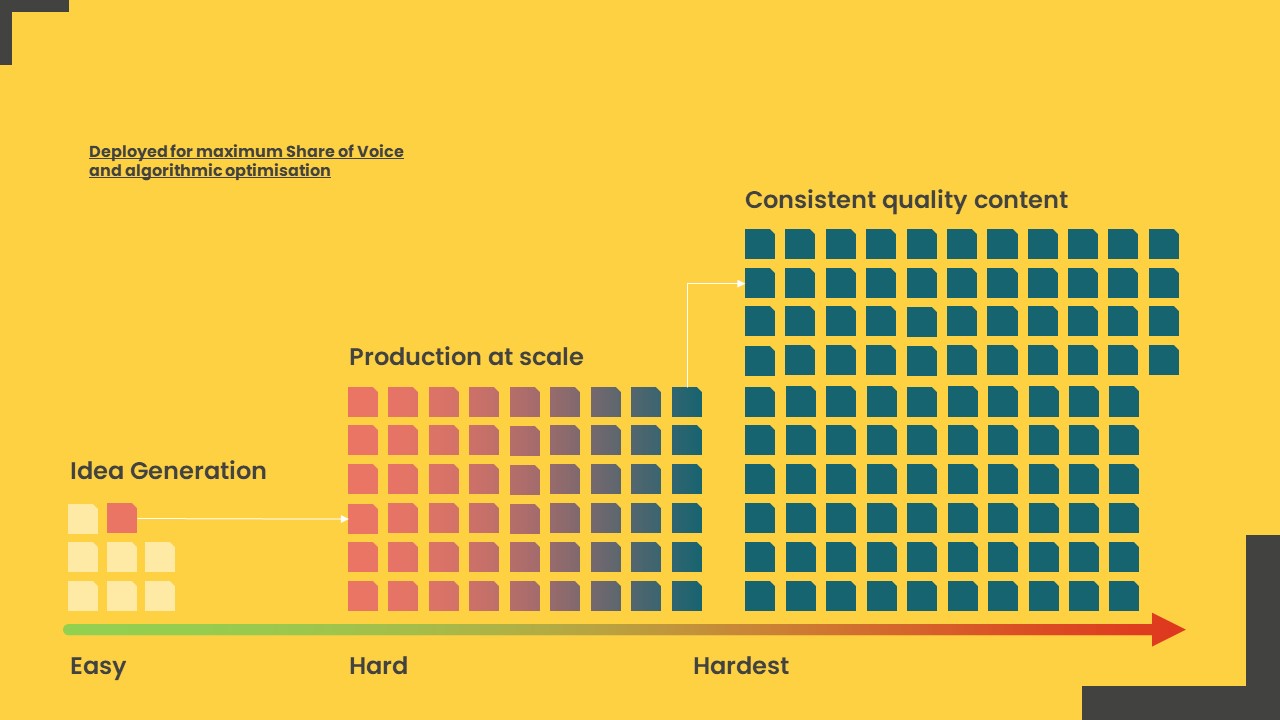 In the content sphere, brands and marketers will need more on relevance and context – how does your product fit into their lives more seamlessly? Call this; personalisation, relevance, or HUB content – Google calls it an "inclusive media planning" and it's not just around 'selling not selling' – it's a deeper and more culturally considerate emphasis on experience across the content streams.  
7. Shout louder
…without shouting loud
For our CMO brand friends 'Share of Market' matters. It really matters! And in a fluctuating economic climate the opportunity to influence loyalty behavioural change, and better still – increase 'Share of Voice' without stretching content budgets is very tempting. While we're typically referring to paid advertising in a competitive marketplace, a stagnant market… it has a much broader opportunity – including SEO, social mentions, community reach, and other digital marketing / advertising metrics.  
Presence, relevance, measurement, and consistency in media creation and delivery will be key to those 'quick growth' in content in 2023.