4 top tips for video SEO in 2021
In the last few years, 'video SEO' has been a buzzword on the lips of many digital marketers. Google's updates have been placing more attention on the quality, relevance and authority of content as contributory factors in defining page rank.
Although brands are investing heavily into visual content for their calendars (and rightly so), most still don't place a high priority on it in terms of search engine optimisation (SEO). With an eruption in the popularity of video content, it's become much harder to get ranked in search results.
As visual content production is still one of the most expensive parts of any marketing plan, it's important that we (as a content creation partner) help maximise return on investment in everything we do.
A lot of time is spent on creating content that's targeted towards digital growth, brand awareness and organic deployment. Although the traditional role of SEO is in more crawlable forms of content, like blog posts and web pages, why don't we consider these factors in the commissioning, planning, production and deployment of visual content?
Video can be an extremely powerful content medium for influencing conversions. Creating suites of consistent, high-quality visual content will only help in improving SEO authority and content strategy – providing we allow the algorithms to find and understand it.
This SEO influence is infused into our entire pipeline of visual content creation. And why wouldn't it be? We are faced with classifying thousands of images and video clips every single week! We'd be totally lost if we didn't understand the intrinsic value of search classification when organising all those assets.
The internet is exactly the same.
We conceive, produce, optimise and deliver visual content with contextual SEO in mind. Right from consideration in scripting, to opportunity planning on set, to native deployment strategies.
Deciding where to start
As with any SEO strategy, elements are built on a platform of consistency and continuity with a commitment to growth and industry best practices. It's this firm base, plus continually evolving new opportunities and refining over time, that generates the best return on investment.
1. Define goals and objectives for your content
It's all too easy to commission visual content without considering its aim in the first place. Content is only king if it's relevant and genuinely interesting for the audience.
So, what are you trying to do?
Generate digital engagement

Increase brand awareness and community growth

Get conversions, leads and sales
Now, that might be just about the broadest list of objectives ever! But, generally speaking, these are common aims among most brands, publishers and content creators.
With the digital soapboxes of social and beyond getting increasingly crowded, organic growth is very difficult to achieve with sporadic content deployment.
By bringing SEO and visual content together, marketing teams can identify opportunities throughout the process. These opportunities influence strategy, audience and creative as much as optimisation, distribution and deployment.
All of these components work together to inform and engage the viewer, which leads to increased brand efficacy, consumer loyalty and, ultimately, conversions.
2. Add rich snippets
One of the key reasons that brands want to engage in video SEO is to start getting featured in rich snippets on search engine results pages (SERPs) from Google. It's the Holy Grail of visual SEO.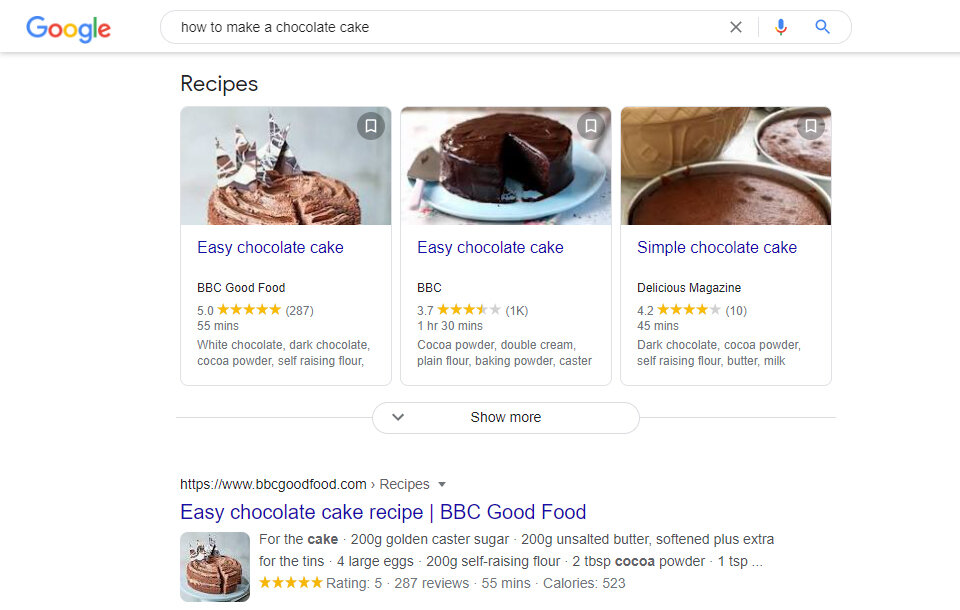 Rich snippets are essentially enriched page descriptions on SERPs. These are usually featured in functional search requests, where a visual or video response is likely to be more helpful to the search query.
Results that show rich snippets appear differently from your regular search results. That often leads to a higher probability of interaction and improves overall search rankings.
Video rich snippets allow videos to rank on SERPs when searching for videos or text queries surrounding that topic.
To add a video rich snippet, you need to add schema code to your HTML. If you are not an expert and want an easy way to do this, you can simply use schema.org. This lets you create and add schemas to videos for different types of rich snippets across a range of functional content terms.
Once you add the code, video content will start to rank as part of the domain's authority. YouTube is particularly skilled at handling these requests, so it's often the primary result for rich snippets. Not to say that you can't get any traction with third-party video repositories, it's just harder to do so.
YouTube videos can be optimised to appear in SERPs more natively by applying best practice for YouTube SEO to all videos. These will work for serving videos in searches on YouTube, as well as the rich snippets in Google SERPs.
3. Create conversion-driven video content
One of the primary goals of video is to get conversions. With a robust video SEO strategy driving more visitors to your video content (and, by extension, your website), the chances of generating conversions can be massively improved.
Viewers engage with video content throughout the funnel, from above-the-line brand awareness campaigns through to ultra-focused product videos. There is an extremely varied range of opportunity to educate potential consumers right at the point of conversion.
This is especially useful for ecommerce retailers and shopper connections (Amazon, Google shopping, and soon, direct YouTube commerce) in affecting the decision to buy. These linked connections are a great way of improving domain authority on product pages and connecting product with consumer engagement.
Video content that is optimised with a robust, targeted call to action can help funnel engaged and enthusiastic prospective customers direct to purchase – whether that's onsite, social media or ecommerce platforms.
4. Leverage link building: the power of an embed
Well-optimised video content can also generate quality link-building opportunities, either through to onsite pages or as part of brand awareness through social. But the value can be extremely powerful in validating and emphasising functional video content.
Content used or embedded within other high-authority domains (Reddit, Quora, etc.) receiving high volumes of relevant traffic will filter this authority through to other platforms. This engagement is a great indicator for Google in understanding the value and authority of the supplied content.
Are you on top of your video SEO?
When it comes to video SEO, a solid strategy and correct use of localised best practice techniques is great for enhancing and elevating your content visibility. But the quality of the content needs to support this optimisation.
All the tricks in the SEO toolkit are for nothing if the content doesn't genuinely interest viewers. Start there, and make sure you work with a team that understands the value of video SEO throughout the content creation process.